Information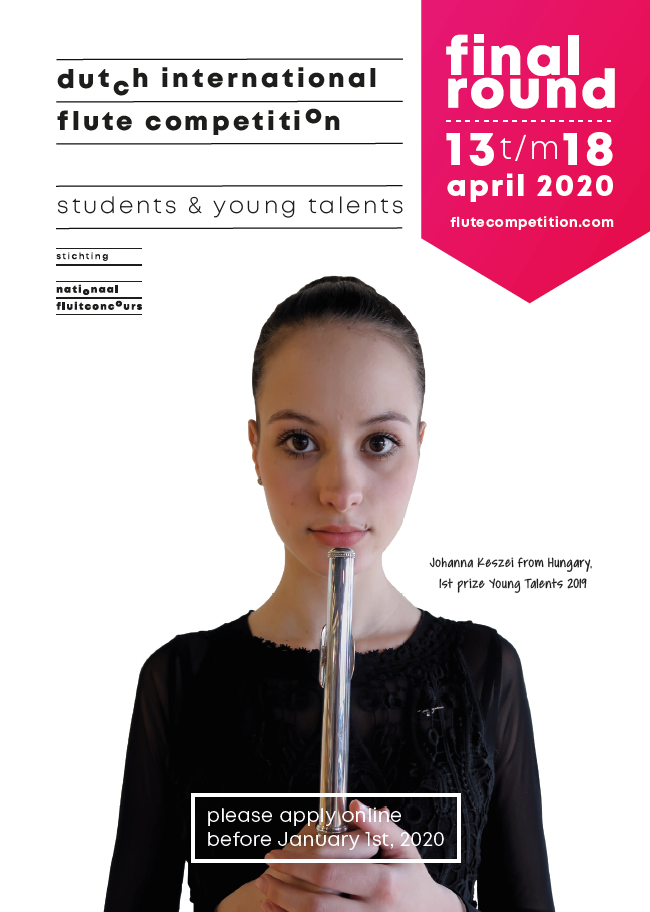 For whom is the Dutch International Flute Competition?
Are you a bachelor or master student or a young talent? Then register for your category. A maximum of 100 flute students (usually from 25 different countries) can participate annually in this competition. Register before January 1st! We offer you a well-organized competition and the opportunity to gain contacts for life...

New in 2020: 3rd final round with orchestra for the categories bachelor and master students:
During the semi final round on Thursday April 16, 3 bachelor and 3 master finalists will be selected who will play the compulsory work with the South Netherlands Philharmonic on Friday April 17. The winners in each category play the laureate concert at the end of the day! More information will be available soon.

Extra in 2020: piccolo competition for students:
Jeroen D'hoe wrote 'Patchwork' for piccolo and piano (or marimba) especially for this competition. This composition is available at our secretary as a compulsory work for this competition, only if you participate as a piccolo player. More information will be available soon.

Final round 2020:
The final round for all categories is planned during the 15th Adams Flute Festival in Ittervoort:
April 16, 2020: semi final round bachelor and master students
April 17, 2020: final round bachelor and master students
April 18, 2020: final round young talents (up to age 13 & age 14 up to 18)
April 18, 2020: final round piccolo students

Adjudicators:
preliminary rounds: April, 13 to 16:
to be decided
final round: April, 17 and 18:
to be decided

Competition pianists:
to be decided

Prizes category bachelor and master students: to be confirmed:
The 1st, 2nd and 3rd prize winners in each category receive a voucher of € 2000,- respectively € 1000,- and € 500,- to be spent at Adams Muziekcentrale.
The 1st prize winner with the most points, wins the Powell flute.
The adjudicators decide on the incentive prizes: free participation at (and provided by):
International Flute Seminar Bruges, Belgium
32nd Forum International for Flute and Piano in Diekirch, Luxembourg

Prizes category young talents: to be confirmed:
1st prize (age 14 to 18): Haynes Piccolo
1st prize (age up to 13): Pearl Piccolo
2nd prize: Adams Voucher worth € 500,-
3rd prize: Adams Voucher worth € 250,-

Download documents:
List of choice of compulsory works 2020
to be decided:
Participants regulations
General information
Practical information group accommodation
Route planner competiton location and group accommodation
Timetable buses from and to locations (for free)
Please read the additional information you receive by mail in advance!

Staying overnight:
Staying overnight is possible in group accommodation the Bekerhof. This is a converted farmhouse with very simple facilities. The costs are € 35,- per night. Breakfast and a simple hot meal are included, as well as the transfers to and from the competition location and railway station. When signing up, you can indicate the required nights. You can transfer € 35,- per night to IBAN: NL43 INGB 0688 8578 41 (BIC: INGBNL2A) in the name of M.Taherian, stating Bekerhof.
> The study rooms at the group accommodation are limited. You can use study rooms with and without piano at the competition location.
> A pillow case, mattress cover and blanket can be rented in the Bekerhof.
> Lunches are available at the competition location but are not included.