Information
Dutch International flutecompetition.com for students, young talents and piccolo players:
the #corona edition in 2021
Congratulations to the finalists for the live final round in October
(by category and in alphabetical order):
Category master students:
Sylvain Barrès (France)
Isabelle Brüning (Germany)
Kacper Dabrowski (Poland)
Anna Komarova (Russia)
Daphne Meinhold (Germany)
Yui Sakata (Japan)
Marta Sesar (Croatia)
David Silva (Portugal)
Jerca Zmitek (Slovenia)
Category bachelor students:
Santiago Acosta Velasco (Columbia)
Michalina Barcikowska (Poland)
Victoria Creighton (Britain/Russia)
Amelia Grenda (Poland)
Reetta Hakala (Finland)
Kristin Ýr Jónsdóttir (Iceland)
Jeseok Kang (South Korea)
Sarah Maschio (France)
Jona Mehlitz (Germany)
Meta Pirc (Slovenia)
Moritz Schulte (Germany)
Anna Winter (Austria)
Uliana Zhivitskaya (Russia)
Category piccolo students:
Dario Caporuscio (Italy)
Clemence Dujardin (Belgium)
Juliette Ferreira (France)
Sarah Miller (Britain)
Andrea Rodriguez Berenguer (Spain)
Flavia Valente (Portugal)
Category Young Talents (age 14 through 18):
Emese Albert (Hungary)
Elizaveta Maksimova (Russia)
Igor Mikhailovskiy (Russia)
Marija Obradovic (Serbia)
Mark Yakovlev (Russia)
Category Young Talents (up to age 13):
Eva Barkova (Russia)
Avedis Eskenian (Armenia)
Ekaterina Ivanova (Russia)
Reina Shim (United States of America)
We say thanks to all the participants for sending in their beautiful videos. We wish them a lot of artistic success now that many stages are opening up again. We look forward to meeting the finalists in the fall ...


After canceling our event in 2020 due to the corona crisis, we organized
online preliminary rounds in 2021
. We have share a few videos with you via our
YouTube
channel.
Of course we pay extra attention to the safety of our participants, visitors, staff and guests with regard to the
corona virus
. We follow the corona guidelines of the Dutch government as mentioned at
www.government.nl
and will adjust the organization of our competition accordingly. We accept no liability for the consequences of these adjustments for our participants and staff.
Visit this site regularly for the latest updates regarding changes in our competitions.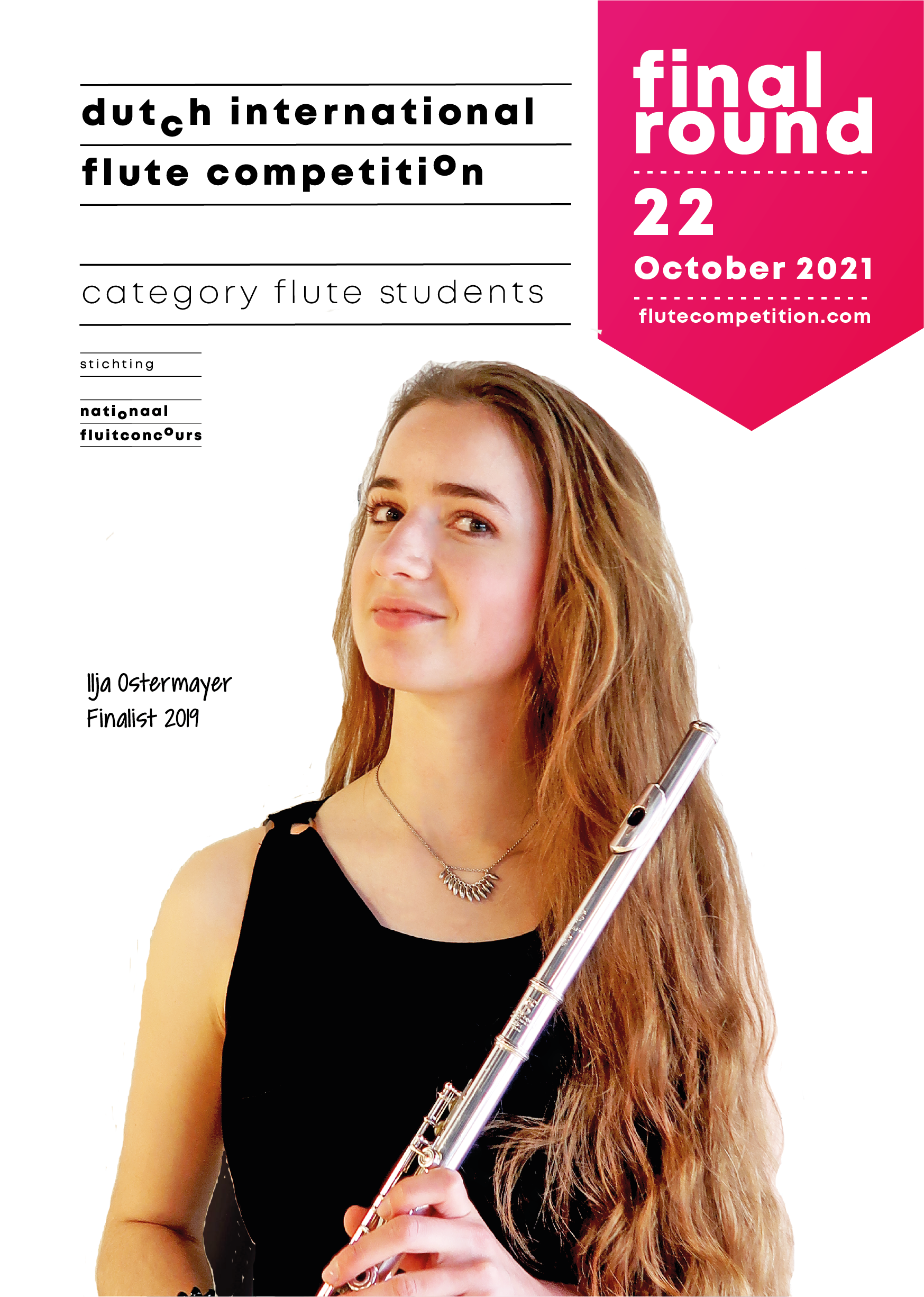 For whom is the Dutch International Flute Competition?
Are you a bachelor or master student or a young talent? Then register for your category. A maximum of 100 flute students (usually from 25 different countries) can participate annually in this competition. Register before February 15th! We offer you a well-organized competition and the opportunity to gain contacts for life...

Adjustments in 2021 due to corona:
The preliminary rounds will be held online and the live final will be postponed and played with piano accompaniment instead of the South Netherlands Philharmonic. The compulsory work for the category master students has therefore changed.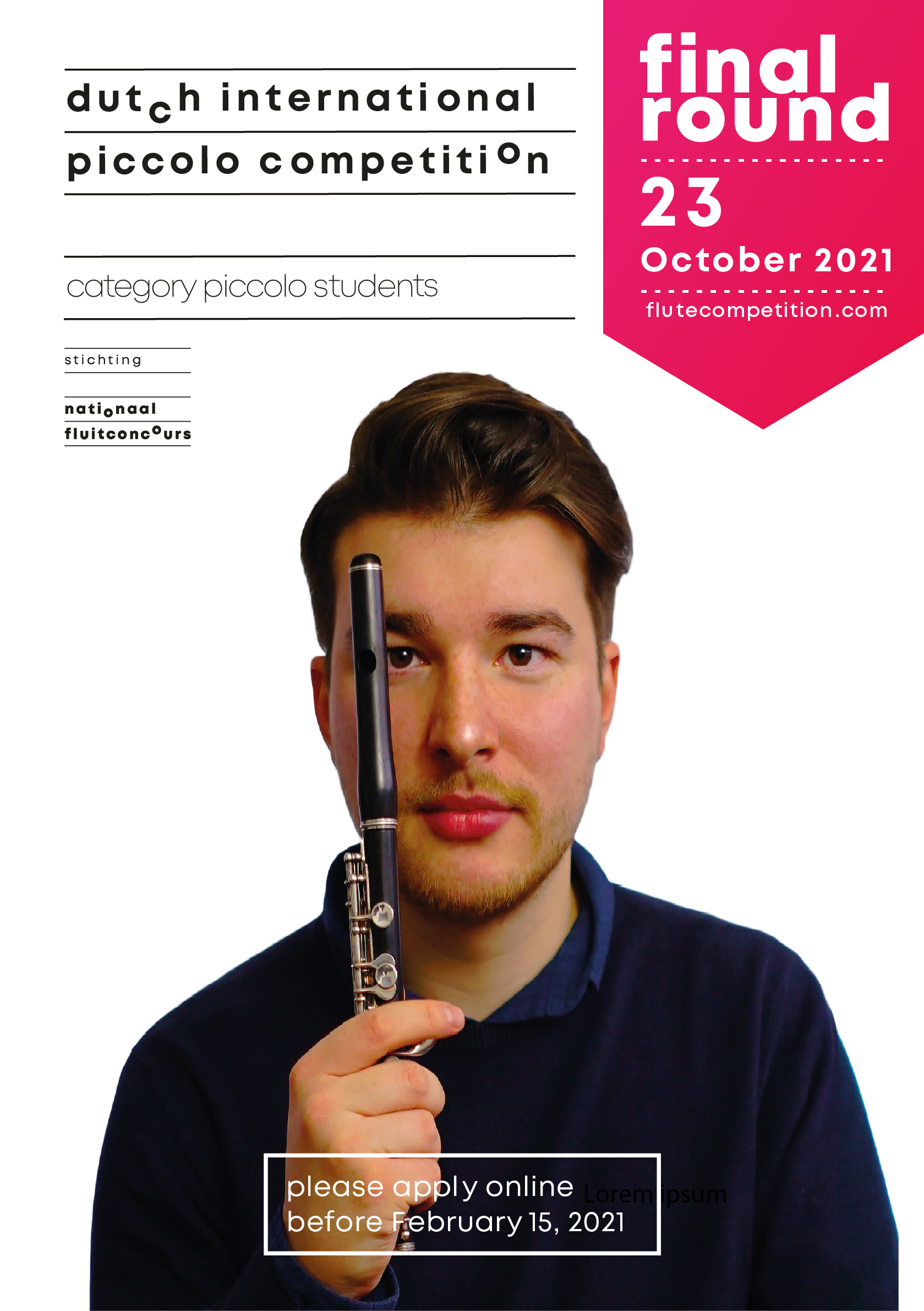 The finalists will play in the same category as they played in the preliminary round, even if they have moved up in age, for young talents, or level.

Read here all information of December 24, 2020 to the already registered particitipants of the live event in April, 2021.

Extra in 2021: piccolo competition for students:
Jeroen D'hoe wrote 'Patchwork' for piccolo and marimba especially for this competition. This composition is available at our secretary as a compulsory work for this competition, only if you participate as a piccolo player. The costs are € 22,50. Only after the competition this composition may be played in public. Check the preview right here.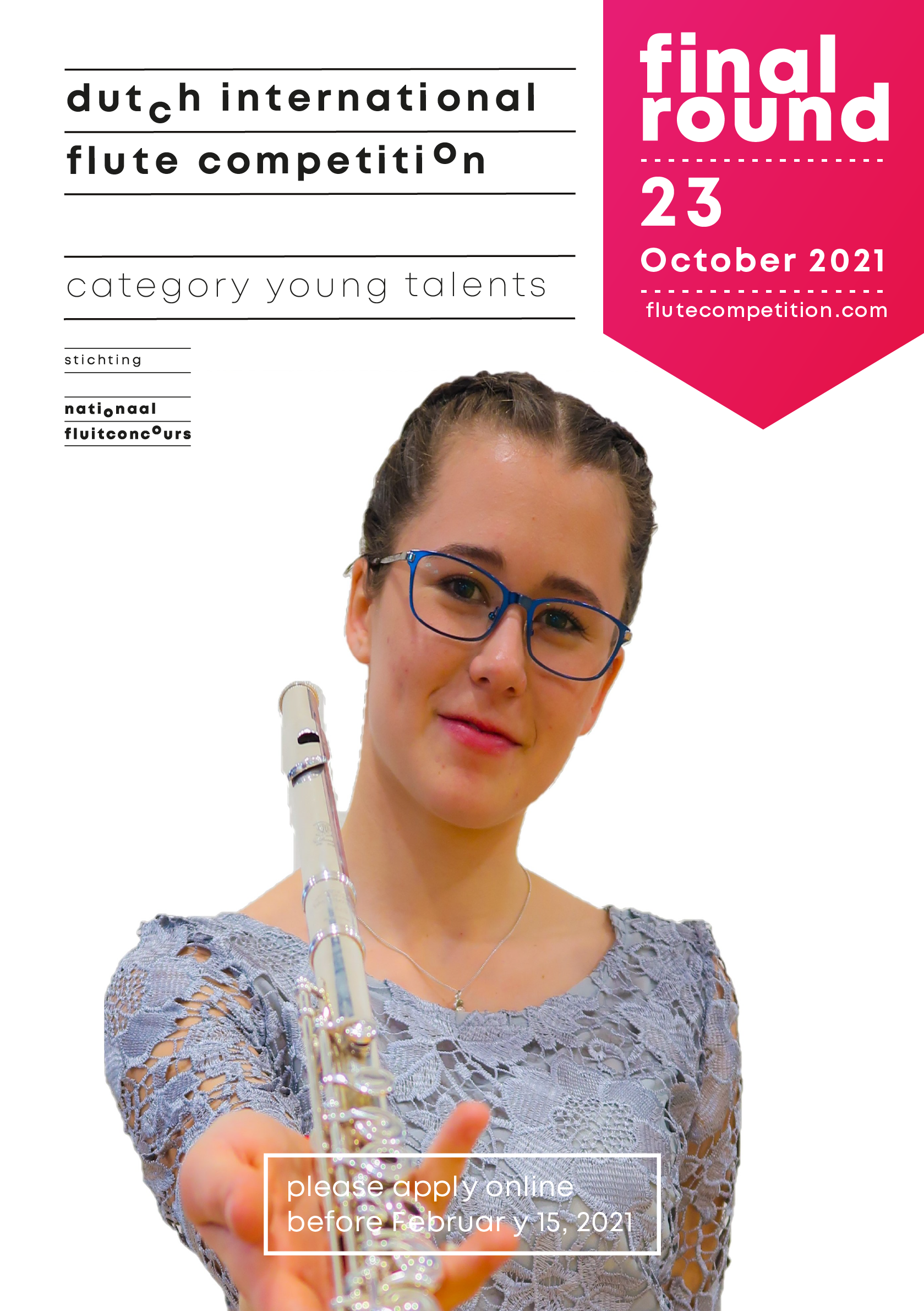 Due to expected travel restrictions in the spring of 2021, the live final rounds at Adams European Flute Centre will be postponed till the fall of 2021. The 15th Adams Flute Festival will not be organized until 2022:
February 15, 2021: deadline for signing up
May 1, 2021: deadline for submitting your video performance
Juni 6, 2021: announcement of the finalists
October 21, 2021: live final round bachelor students
October 22, 2021: live final round master students
October 23, 2021: live final round young talents and piccolo students
Adjudicators:

preliminary rounds bachelor students:
Mario Caroli, Aldo Baerten, Carlos Bruneel, Hans-Udo Heinzmann, Gaby Pas-Van Riet, Stephanie Winker, Carola Ligt, Britta Bauer, Raymond Honing
preliminary rounds master students:
Ulla Miilmann, Christina Fassbender, Anne-Cathérine Heinzmann, Vincent Cortvrint, Carlo Jans, Peter Verhoyen
preliminary rounds young talents:
Jeroen Bron, Valerie Debaele, Petra Music
preliminary rounds piccolo students:
Christopher Green, Nicola Mazzanti, Ilonka Kolthof
Depending on travel restrictions and availability on the new dates of the final rounds:
final round bachelor and master students:
Ulla Miilmann, Aldo Baerten, Carlos Bruneel, Carlo Jans
final round young talents:
Ulla Miilmann, Aldo Baerten, Carlos Bruneel, Peter Verhoyen
final round piccolo students:
Nicola Mazzanti, Vincent Cortvrint, Ilonka Kolthof

Competition pianists:
Mariken Zandvliet, Vital Stahievich, Kamelia Miladinova, Vanda Albota, Hanna Heinmaa, Pieter-Jan Verhoyen
Competition percussionists:
Sylvie Erauw, Georgi Tsenov

Prizes category bachelor and master students:
To be defined: because there will be no Adams Flute Festival, the majority of our sponsors will not contribute to the flute competition, neither in money nor with instruments. Consequently most prizes will consist of vouchers of the Amdams European Flute Centre.
The 1st, 2nd and 3rd prize winners in each category receive a voucher of € 2000,- respectively € 1000,- and € 500,- to be spent at Adams Muziekcentrale.
The 1st prize winner with the highest score of both categories will win the Powell 905 Sonaré flute
The adjudicators decide on the incentive prizes: free participation at (and provided by):
International Flute Seminar Bruges, Belgium
Forum International for Flute and Piano in Diekirch, Luxembourg
One of the laureates will be invited to play at a lunch break concert in the recital hall of the Concertgebouw in Amsterdam: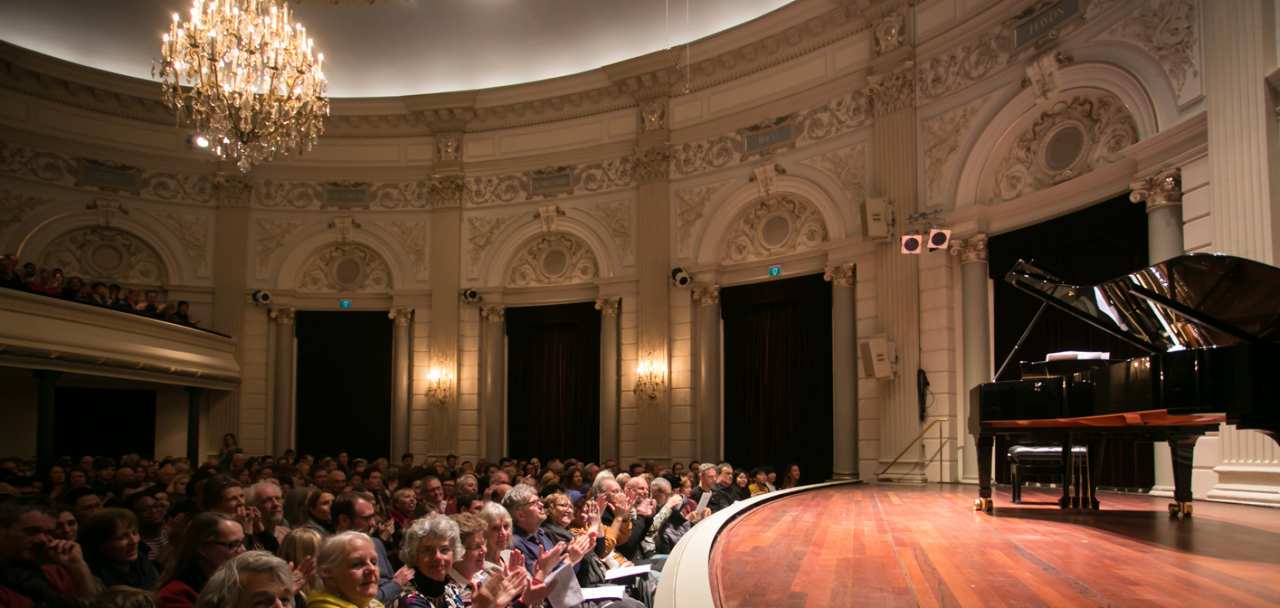 Prize category piccolo:
1st prize: Burkart Professional Piccolo
2nd prize: Mancke piccolo headjoint

Prizes category young talents:
1st prize (age 14 to 18): Haynes Piccolo
1st prize (age up to 13): Pearl Piccolo PFC-105E
2nd prize: Adams Voucher worth € 500,-
3rd prize: Adams Voucher worth € 250,-

Download documents:
Information about your video recording in the preliminary round (version of February 24, 2021)
List of compulsory pieces 2021 (updated version of December 24, 2020 without orchestral piece)
Participants regulations (updated version of December 24, 2020)
General information (updated version of December 24, 2020)
Practical information group accommodation (updated version of December 24, 2020)
Timetable buses from and to locations (for free) (to be defined)
Travel instructions competiton location and group accommodation
Manual protective cap against aerosols for flute (non-medical)
Please read the additional information you will receive by mail in advance!

Staying overnight:
Staying overnight is possible in group accommodation the Bekerhof. This is a converted farmhouse with very simple facilities. The costs are € 35,- per night. Breakfast and a simple hot meal are included, as well as the transfers to and from the competition location and railway station. When signing up, you can indicate the required nights. You can transfer € 35,- per night to IBAN: NL43 INGB 0688 8578 41 (BIC: INGBNL2A) in the name of M.Taherian, stating Bekerhof.
> Studying facilities at the group accommodation are limited. You can use study rooms with and without piano at the competition location.
> Bed linen (including a sheet, a pillow, a pillow case, a duvet and a duvet cover) can be rented at the Bekerhof.
> Lunches are available at the competition location but are not included.