Policy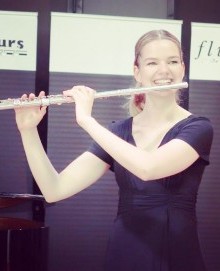 Stichting National Flute Competition organizes the annual:
> de Dutch International flutecompetition.com for students and young talents (with on average 100 participants from 20 countries).
> Adams flutefactor.nl: an international talent show for youth from age 8 to 13.
> the fluitwedstrijd.nl: a regional competition for young people up to age 18.
> the Benelux fluitconcours.nl for amateur flute players (soloists, ensembles and piccolo).
"The competition stimulated me to learn to play at the top of my capabilities: I had a clear goal to study for. I was extremely motivated! It was interesting to receive the comments from the professional jury and to have the opportunity to perform in front of an audience."
Get inspired: the jury reports and the personal contact with the adjudicators are inspiring and an excellent learning experience. The comments are useful for both paricipants and teachers. For many of our laureates, attending the competition is a step forward in their professional career!
Participants can attend workshops and can get inspired by (free) concerts of reknowned flute players. All contestants will receive a certificate.
Mission and goals
Stichting Nationaal Fluitconcours offers amateur flutists a platform where they can acquire performing experiences in a competitive atmosphere. It is our goal to improve the performance levels of the contestants.
The board organizes annual competitions for both amateurs and students with preliminary regional rounds. A professional jury gives an educative and constructive written and/or verbal evaluation.
-The Benelux Flute Competition alternately organizes a competition for amateur soloists and ensembles. Both have different (age) categories. Only amateur flutists from the Benelux and Euregios are allowed to participate.
-Adams Flute Factor: an open international platform for Youth between the ages of 8 and 13.
-The Dutch International Flute Competition organizes a yearly competition for flute Students and Young talent worldwide. An average of 55 flute students from 25 different countries participate yearly.
Vision
The Netherlands Flute Land! The performance level at the competition contributes to the further development of the flute culture in The Netherlands. Due to the (inter)national character of the competition it inspires participants to achieve a higher level.
Contestants are challenged to display their best qualities during their performance. The joy in playing is heightened by the personal development of the participants. Due to the division in age groups, a low threshold is created to encourage participation.
Ambition
The competitions function as an increasing inspiration to improve the performer's level and may be regarded as the "launching pad" for possible professional careers. The competitions are increasingly popular under the target groups as the leading event in which every interested amateur flutist will want to participate.
Target groups
Enthusiastic and/or ambitious amateur flutists (and their families); conservatory students, flute teachers; colleague organisations; flute builders; podia; public, etc.
Stichting Nationaal Fluitconcours strives to accomplish a greater liaison between the target groups to improve the flute culture.
The competitions offer the participants per category the opportunity to:
-competitively compare within their age group
-to take initiative
-to present oneself
-to discover one's own talents
-to make progress in one's own musical independence
By participating in the competition, many will reach a level that will give them pleasure for the rest of their lives; the best often decide to apply for professional schooling after having participated. For others, having participated can be a very meaningful experience in one's personal musical development. De flute competition has stimulated several thousands of flutists to continue their musical growth at either amateur or professional levels.
Results
-An annual average of 150 amateur flute players participate in our flute competitions.
-Some laureates have continued their studies and made flute playing their profession. Among these there are professionals known world wide. For others, having participated caused an awareness of one's own playing level.
-The flute competitions have grown to be leading internationally.
Bewaren