In English see website
Read more about the Flute Competitions and come and listen to the workshops and concerts!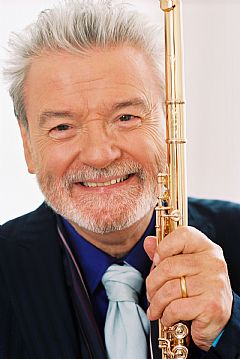 2 to 4 April 2014: preliminaries and finals of the International Flute Competition for students.
Visit also the Adams Flute Festival from 4 to 6 April and participate in the workshops, visit the expo and come and listen to the concerts of Peter Verhoyen, Neflac ensemble, Quintessenz from Leipzig and James Galway (photo)
The International Flute Competition will take place in a relaxed atmosphere. Purpose of the competition is to facilitate exchange of knowledge and contacts. Therefore it is for example possible to get personal feedback from members of the jury.
Professional network:
This mailing is sent to 2000 adresses worldwide consisting of teachers, Conservatories, sponsors, stages, participants etcetera. More than 6000 people visit the website each year.
Follow the competitions on facebook using the link on www.fluitconcours.nl or www.flutecompetition.com.
Stichting Nationaal Fluitconcours also organizes ensembles and soloists competitions for amateur flute players: the Benelux Flute Competitions.